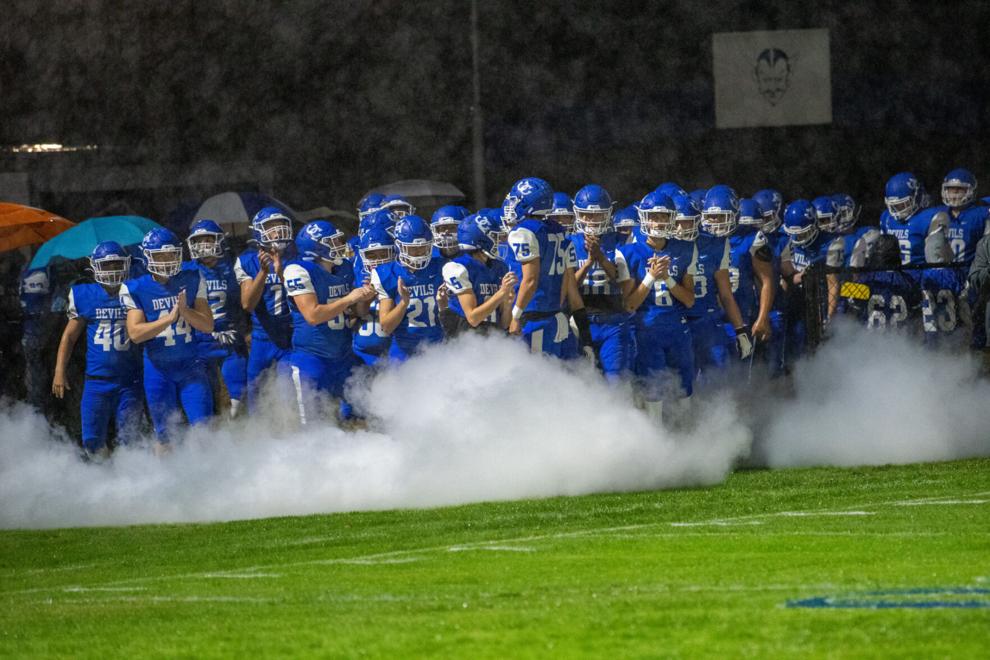 By Trey Williams
The Unicoi County football team's dreams of a perfect season were washed away by a perfect storm.
Cloudland arrived in Erwin along with storm clouds Friday, and the soggy field was tailor-made for the big, physical, ground-oriented Highlanders, who rolled to a 28-0 victory.
Also aiding Cloudland was the fact that the Blue Devils were coming off a satisfying Region 1-3A victory against rival Chuckey-Doak, which gave them an opportunity to clinch the region against West Greene this week.
Of course, Cloudland probably didn't need any "sandwich game" advantage to have a lot of success.
"I think I said before the game that they may be the best team we'd seen all year," Unicoi County coach Drew Rice said, "and that certainly proved true Friday. We just got hit in the mouth early, and for whatever reason, didn't respond to it at all. They just pushed us around. That's the first time – even going back to our scrimmages – that's the first time we've been pushed around up front."
Cloudland (6-1), ranked No. 7 in Class 1A, got 225 yards rushing and two TDs while pushing around the Blue Devils (7-1), who were ranked No. 6 in Class 3A.
"My hat just goes off to them," Rice said. "They're huge, and they play about 12 kids. That's really admirable – truly. And they're well-coached. They're just tough, tough kids. They were more physical than us Friday and tougher than us Friday, just to be completely honest."
That said, circumstances did aid Cloudland's cause.
"We didn't get beat because of the weather, but I think that certainly aided them and hurt us," Rice said. "It made throwing the ball really, really difficult. Cloudland plays, basically, just man (defense) across the board with cover zero – no safety. We knew that going in, and because of that, we thought we'd have some opportunities in the passing game. The rain really made that difficult."
The shutout loss was a teachable moment for the players. And Rice learned something about them, too.
"It wasn't an effort thing," Rice said. "And I will say we played much better the second half, and at no point did any of our guys self-destruct or turn on each other. In a game like that it's easy to start pointing fingers, blaming other guys and fussing amongst ourselves. We never had any of that. After I talked about all we did wrong I told 'em I was proud of that.
"We didn't have bad penalties or anything like that, because a lot of times one bad thing can turn into four or five. I thought we showed some maturity there and had some pretty good leadership. But the real question is gonna be how we bounce back this week."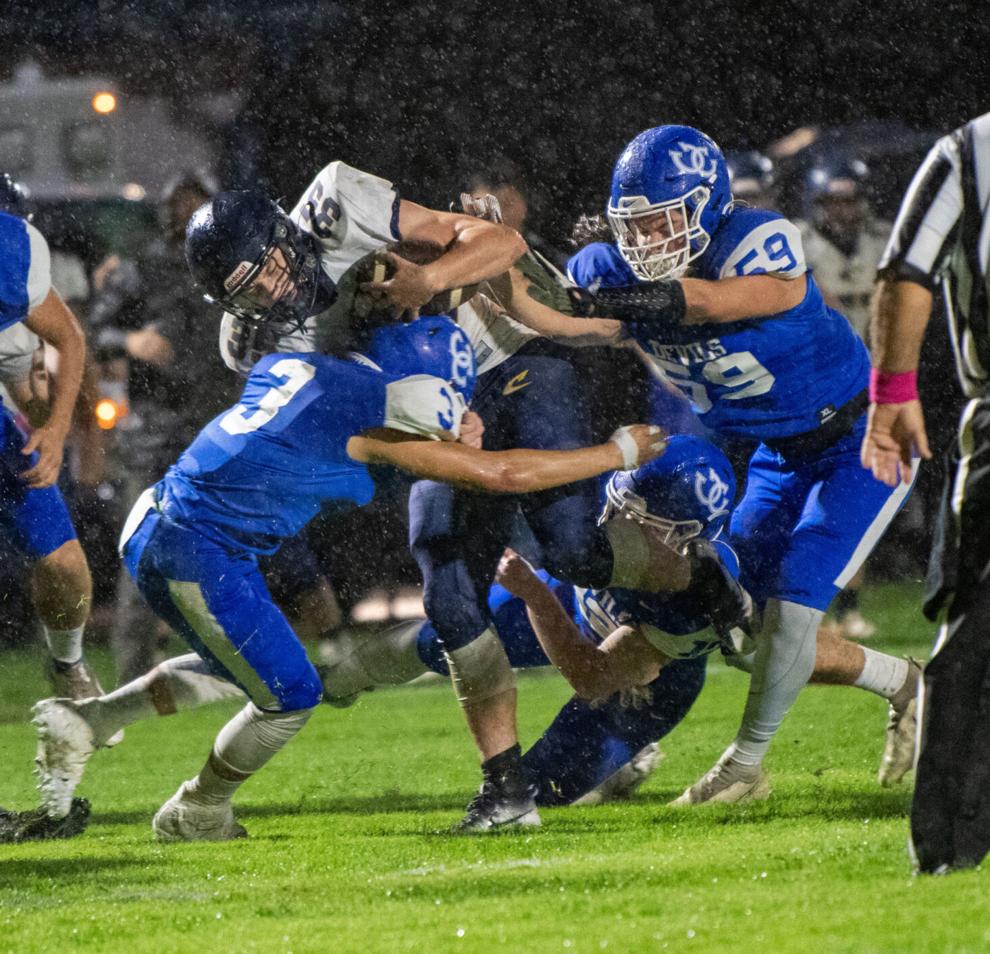 West Greene (2-0, 4-3), which is coached by Happy Valley alumnus Scotty Verran and will visit Erwin on Friday, has lost two straight after a 4-1 start. It's coming off a 44-28 home loss against Cherokee. The Buffaloes lost to Cloudland, 20-7, on Oct. 1.
Quarterback Jaden Gregg threw three touchdown passes against Cherokee and the Buffaloes led 28-23 late in the third quarter. Ethan Turner had two TD catches.
"Their quarterback does some good things," Rice said. "They try to get him out of the pocket. He's not a real big kid, but he runs well and throws well. So they try to move him around and they've got some athletes on the outside that they try to get the ball, too. We're gonna have to keep him hemmed up and keep them in front of us.
"Coach Verran does a great job. Their base offense is still the Winged T – like it has been everywhere that he's been. But against Cherokee they had some success throwing the football. That's probably the best their offense has looked. So I expect 'em to probably throw it a little bit more than they traditionally do. Now, with that said, they may get this Cloudland film and think they can run it down our throat."
Rice is just happy to see that rain isn't in the forecast. Indeed, that was a silver lining Rice considered before the Cloudland loss had concluded.
"I said it multiple times Friday night to our staff, thank goodness it wasn't this coming Friday," Rice said. "So we're just gonna have to get back to what we do – control the line of scrimmage, run the football and let that set up our passing game.
"I told our guys when we came in today (Sunday) that that one is over and there wasn't a thing we could do about it now. We've just gotta get ready and go win a football game Friday night."