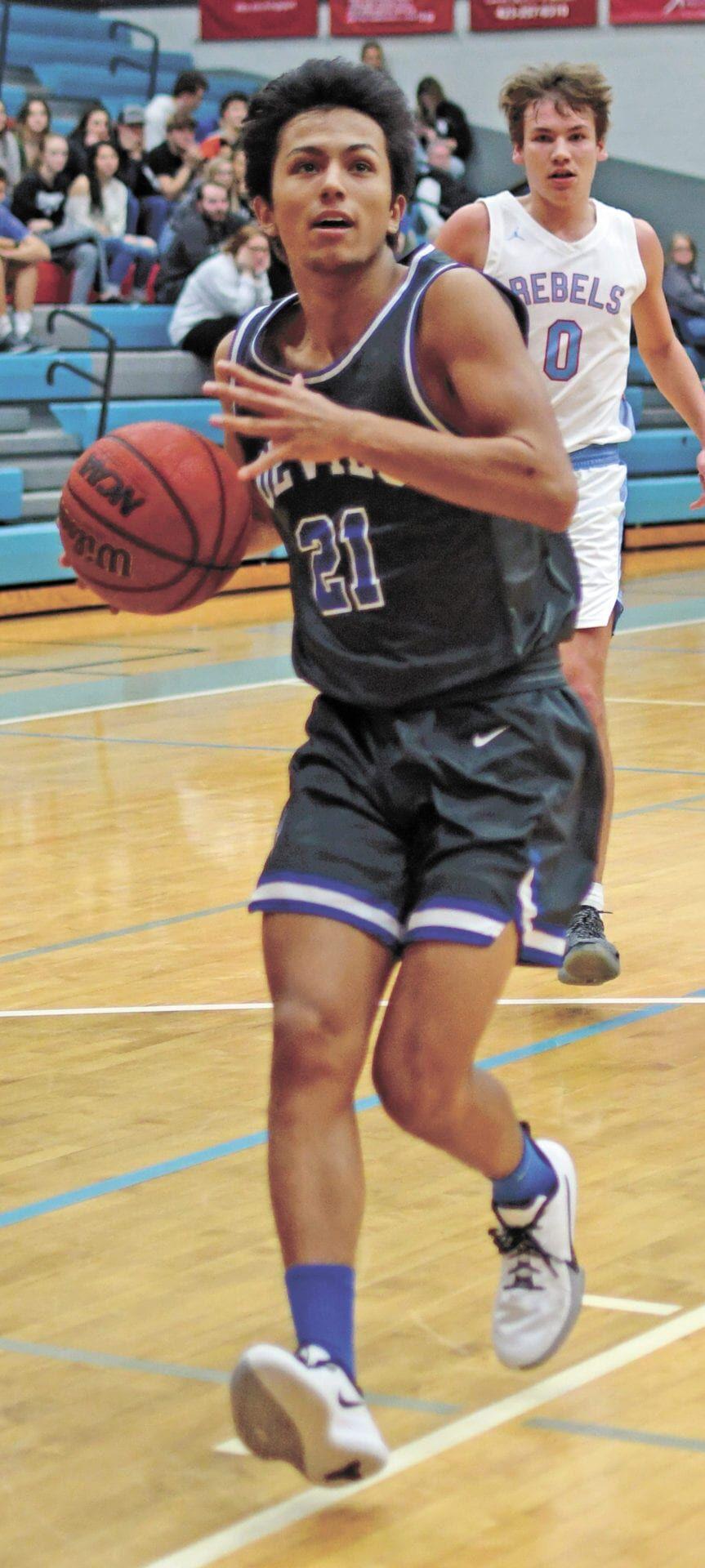 By Trey Williams
The Unicoi County High School boys basketball team nearly stretched its winning streak to six games on Friday, Jan. 24, at Sullivan South, but freshman Lucas Slagle and the Blue Devils will likely rebound quickly from the hard-fought loss.
Slagle tallied 12 points and 17 rebounds in the 69-65 setback at South, which waltzed past Unicoi 91-59 last month in Erwin.
A 6-foot-5 freshman post, Slagle was coming off a team-high 15 points in the Devils' 65-59 home win against Happy Valley on Tuesday, Jan. 21. He's averaging 11 points, 13 rebounds and two blocked shots, and grabbed 19 rebounds in a game against Sullivan Central.
"He is the best rebounder I have ever coached," said first-year UCHS coach John Good, who coached David Crockett to its first state tournament during a six-year stint after spending a decade as an assistant at Science Hill. "He being just a freshman is amazing."
Slagle's father Donnie played on the Blue Devil's sectional team in 1989.
"I've got some film of dad that I watch," Slagle said. "It inspires me the way that he played. … Dad always has – just kind of teaching me to know how to read the ball out of a shooter's hand and know which side it's gonna go to and be there."
Slagle's cousins Conner and Clay Simpson played at UCHS, the latter of whom plays baseball at Carson-Newman.
Baseball is apparently Slagle's best sport, too. A pitcher-first baseman, Slagle has already been clocked around 85 mph.
"Baseball is my big thing," he said, "but I really enjoy playing basketball, too."
There's been much joy of late for the Blue Devils (4-4, 13-11) and there were some positives to take from nearly handing the Rebels their first Three Rivers Conference loss – particularly after getting blown out by South last month.
"I mean in a way (it was encouraging)," Slagle said. "But in a way we should've beat them. We had plenty of opportunities to win. …
"We're hoping to win our next (four) games for the conference and be sitting at No. 2 come tournament time, and get another shot at South and win."
South coach Michael McMeans is impressed with Slagle, whose put-back gave the Devils their final lead (55-53 with 4:44 remaining).
"Oh my gosh, he's gonna be a college prospect," McMeans said. "Once he gets stronger and his post game develops, I mean I don't know how we're gonna deal with him the next few years. He changes things because he blocks shots and he's so long. He raises up over everybody and can get his shot anytime he wants to."
Sullivan South senior point guard Ben Diamond scored his 1,000th career point on Friday. Slagle could end up with 1,000 points and 1,000 rebounds.
"He's gonna be a beast," Diamond said. "He's gonna be scary in a few years."
The Blue Devils' frontcourt should have another promising freshman next season in 6-foot-1 Caleb Peterson.
"I think he'll be able to help us the next three years (the remainder of Slagle's career)," Slagle said.
The varsity game has slowed down for Slagle since the beginning of the season, and continues to do so.
"There are times where there's a lot of pressure that gets put on us," Slagle said, "and it seems a little fast there for a little while. But, yea, in general it's slowed down."
Caleb Adkins scored 14 points against South. Brock Thompson and Phoenix Holt added 10 apiece. Thompson hit a 3-pointer off the dribble that got the Devils within 65-63 with 44 seconds left and Holt's difficult driving scoop cut South's lead to 67-65 with 14.9 seconds left.
"We fought," Good said. "I mean shoot, they whipped our hind-end at home. Our guys fought their butts off."
Robbie O'Dell (14 points), who was out with the flu against Sullivan South, and Thompson (11) joined Slagle in double figures in the win against Happy Valley. O'Dell made four 3-pointers.
UCHS will host Sullivan East on Friday, Jan. 31. The Patriots won 65-63 in Bluff City on Jan. 7 thanks, in part, to 19 points from skilled, bullish guard Dylan Bartley.
"Hopefully, we'll find a defense that can keep him off the foul line," Slagle said.
The Blue Devils are scheduled to travel to Elizabethton on Tuesday, Feb. 4. Junior varsity games are set for 5:10 p.m. with the varsity set to play at 8 p.m.