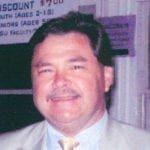 Kent Winston Garland, age 64, went home to be with the Lord February, 18, 2017 at the Johnson City Medical Center, he had been Type 1 diabetic for 54 years. He was a native of Unicoi County. H was a son of the late Judge Walter and Edith Bradley Garland and grandson of the late P.N. and Eva Garland. He was of the Christian faith and a member of Calvary Baptist Church.
Kent was an attorney in private practice for 8 years and was a retired Assistant District Attorney of 16 years. His health never allowed him to hike the Appalachian Trial, although he loved to shuttle hikers and enjoy the trail through them. He loved feeding the birds and hanging with his faithful dog Chloe.
Other than his parents he is preceded in death by his sister Carole Garland Crawford and husband Ed. His niece Cynthia Diane Crawford.
He leaves behind to cherish his memories his wife, Tracy Tinker Garland of 10 years, son, Aaron Garland and wife Kim of Jonesborough, daughters, Valarie Tinker Black and husband Zane of Erwin, Hunter Tinker Lunsford and husband Jesse of Johnson City and granddaughter, Melissa Renee Black. Brother, Wayne Garland and wife, Sue of Jacksonville, FL, nephew, Evan Garland and wife, Delicia "Bebe", and great nephew, Evan Andres Garland of Jacksonville, FL.
The family respectfully requests the honor of your presence as we offer tribute to and remember the life of Kent Winston Garland in a funeral service at 7:00 PM, Wednesday, February 22, 2017, at Calvary Baptist Church, 540 Adams Street, Erwin, TN 37650. Reverend David Crutchfield will officiate. A visitation period to share memories and offer support to the family will begin at 5:00 PM and will continue until service time at Calvary Baptist Church on Wednesday. A graveside service will be held on Thursday, February 23, 2017 at 11:00 AM at Bell Cemetery. Those attending will meet at Bell Cemetery on Thursday by 10:50 AM.
In lieu of flowers the family requests donations be made to Calvary Baptist Church to be divided between the Building Fund and the Special Needs Ministry, 540 Adams Street, Erwin, TN 37650.
Condolences and memories may be shared with the family and viewed at www.valleyfuneralhome.net. These arrangements were made especially for the family and friends of Kent Winston Garland through Valley Funeral Home, 1085 N. Main Ave, Erwin, 423-743-9187.