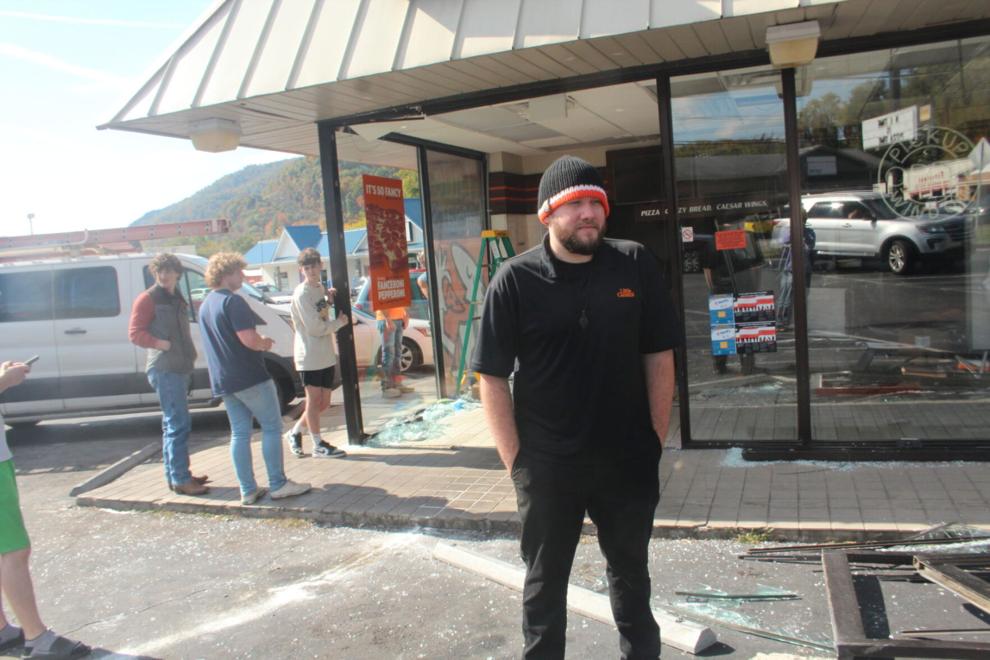 By Ty Butler
A truck crashed into the Erwin Little Caesars Pizza on North Main about 1:45 p.m. on Tuesday, Oct. 11.
"I was standing there with one of our other employees who was taking an order and I turned and heard a big crash and before I knew it there was a truck right there," said Little Caesars Pizza Manager Gavin Miller as he pointed to the lobby of the demolished front of the building.
"Stuff went flying right by me," Miller said. "I just kind of froze. What do you do in that situation?"
The Erwin Police responded to the incident, along with Erwin Fire Department, Unicoi County EMS and Unicoi County Emergency Management. Major William D. Rogers was the investigating officer on the scene.
In a press release sent by EPD, Chief Regan Tilson said that the truck, a 2015 Chevrolet Colorado, was driven by a 71-year-old resident of Jonesborough. In a subsequent electronic traffic crash report obtained from the EPD, the driver was identified as James Tillman Jacobs.
According the release, Jacobs explained to officers that he thought he was hitting the brakes but hit the accelerator.
The report noted that Jacobs was pulling into a handicap parking spaced in front of the business when he mistakenly applied the gas at full throttle, causing the vehicle to jump the curb and crash through a glass door and windows at the front of the store causing severe damage to the building and its contents.
The driver and a passenger, Helen Jacobs, in the truck were uninjured.
According to Miller, a 20-year-old employee named Brady Poss was injured during the incident. According to the police report, Poss was taken to the Johnson City Medical Center for treatment.
The EPD release described the injuries to the employee as "serious but non life-threatening."
Other people were checked for minor injuries at the scene, according to the release.
As of Tuesday, Oct. 18, the business remained closed.