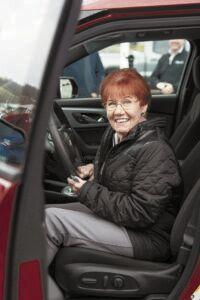 By Richard Rourk
An Erwin woman is celebrating this holiday season with some new wheels thanks to Ballad Health and Champion Chevrolet Cadillac in Johnson City.
Laura Tracy, pastor at Grace United Methodist Church in Erwin, was the grand prize winner of the Ballad Health Niswonger Children's Network Raffle. Laura and her husband, Ron, won a new car from Champion Chevrolet Cadillac in Johnson City.
Tracy was at her church doing work to support their food bank when the call came to her home from the Ballad Health Foundation, which held the raffle, informing them of the prize. Her husband, Ron, took the call and was completely surprised to get the news that Laura had won a new car. He had to wait until she got home from her work at the church to inform her she had won the car.
Tracy chose a 2022 Chevrolet Blazer from Champion, selected over the other two grand-prize options, a Chevy Volt and a Chevy Traverse. 
"I never expected to win," Tracy said. "This is a first; I've never won anything like this before. This is a surprise blessing."
Tracy said she was very thankful for the new vehicle. 
"I certainly want to thank Champion Chevrolet for doing this," Tracy said. "They are very generous."
Other winners included three other runners-up who won cash prizes:
• Kaye Miller of Johnson City ($2,500)
• Angela Gillenwater of Fort Blackmore, Virginia ($1,500)
• Kayla Middleton of Kingsport ($1,000)
The raffle raised $114,000 to benefit the Ballad Health Niswonger Children's Network, a regional system of care announced last year that focuses on the health and well-being of every child in the Appalachian Highlands. The network includes Niswonger Children's Hospital, the region's only children's hospital.
Over the last 13 years, Champion Chevrolet has donated gifts and cars worth more than $395,000 to the Niswonger Children's Network raffle fundraiser. 
The raffle itself has raised $1.2 million to benefit Niswonger Children's Hospital and the new children's network. 
"We just want to help kids in our region," said Andy Dietrich, co-owner of Champion. 
"We're so blessed to have a children's hospital right here in our own backyard," Dietrich added. "I have kids who have been in Niswonger Children's Hospital and we're so thankful for the care they gave us, so I know it's a worthy cause."