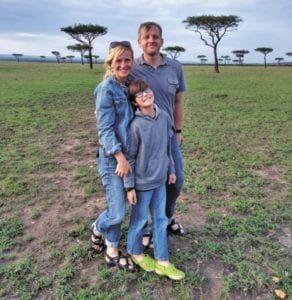 By Richard Rourk
One Erwin family is trying to make a lasting difference in a foreign land.
Jason Brotherton and Ree'L Street, who spent their youth in Erwin and graduated from East Tennessee State University, have taken their talents to Kenya to help those less fortunate.
"We were born and raised in Erwin and attended what was once Evans, then UCMS, and graduated from UCHS before attending ETSU together," Brotherton said. "Our families still live in Erwin, and we enjoy the opportunity to come back to the Valley Beautiful when we can."
According to Street, the family made several moves before settling in Kenya.
"We got married while Jason was in medical school in Memphis, and I was a business consultant in Atlanta," Street said. "We moved to Los Angeles for Jason's combined residency in internal medicine and pediatrics, and it was there that our now 10-year-old son, Sylis, joined the family."
The Brothertons ended up in Kenya following a trip that would change not only Jason's life, but the whole Brotherton family.
"After a trip to Sudan during medical school, I felt a clear call on my life to serve and teach others in a resource limited setting and over the next nine years (the remainder of medical school and residency), we discussed what it would look like to serve abroad, but didn't have any specificity as to where they were being called to serve," Brotherton said. "We attended a global missions conference in 2015 and were presented with the opportunity for both of us to use our knowledge, skills and abilities to further the Kingdom in rural Kenya. This seemed like the obvious choice as there was utility for both of our educational backgrounds, in addition to there being an emphasis on sustainability and teaching."
For the Brotherton family, the ability to use their skillset to provide assistance and sustainability is crucial to what they see in mission work.
"We feel a critical piece to missions is to transfer knowledge, skills and abilities to nationals for immediate leverage and long-term sustainability," Street said.
The Brotherton family have been living and serving in Kenya for four years now, and the day-to-day operations seem to be expanding.
"We serve as country directors for our mission-sending organization (Serge) which means we are responsible for the mission teams that are spread throughout the country of Kenya, which currently includes 54 individuals," Street said.
For Brotherton, being able to make Kenya a healthier place drives his passion.
"I am the head of critical care at Kijabe Hospital and I spend time taking care of the sickest patients, doing bedside teaching, and conducting clinical research in both the adult and pediatric ICUs to improve care in resource limited settings," Brotherton said. "When not rounding on patients, I also do classroom teaching for various educational programs that train and send East Africa medical providers."
For Street, being able to help the community by raising funds and awareness to the dire needs of the people of Kenya is fulfilling.
"I wear a variety of hats; I manage and facilitate a leadership development program for Serge missionaries, and I oversee our developing mission organization in Kenya," Street said. "I act as associate director of Friends of Kijabe (a U.S.-based, 501(c)(3) that raises money for Kijabe Hospital), and provided ad-hoc consulting for the hospital and is working with another missionary to start a coffee shop in Kijabe that will raise money for the community and train women in business."
According to the Brotherton family, serving in Kenya has been "challenging."
"Serving here is challenging mentally, physically, emotionally," Brotherton said. "Living and working in a resource limited setting not having enough 'stuff' (i.e. equipment, personnel, etc) requires ongoing difficult decisions in stewarding precious resources. These are the decisions that keep one awake at night; deciding who gets the last of our oxygen supply or who gets the last ventilator; it's a responsibility not to be taken lightly."
For Street, there is a different set of challenges that she faces during her day-to-day.
"For me, effectively participating in and navigating the culture is the biggest hurdle to effective ministry," Street said. "From working in legalities to building meaningful relationships, understanding the culture is the linchpin; it's often hard to set aside the American lens such to clearly understand the context and local perspective."
The challenges that the Brotherton family faces also come with a separate set of rewards.
"It's invigorating and amazing to get to go to work with incredible colleagues from Kenya, Australia, the U.S. and U.K. and teach many bright and eager men and women from 10 other African nations that are ultimately the future of healthcare in East Africa and beyond," Brotherton said. "It's a humbling and exciting thought to think that one person's investment, fueled by others' prayers and financial contributions, can be multiplied across patients, hospitals, areas and countries."
For Street, the fast-paced, ever-changing landscape of her work has been very rewarding.
"The diversity of work keeps me on my toes, constantly pushing me to expand my skillset and abilities," Street said. "At the end of the day, I can't think of a more rewarding way to use the giftings I've been given by our Creator."
For the family's youngest member, the trait of staying active is alive and well.
"Sylis walks up the hill to an international school that Teddy Roosevelt helped establish over 100 years ago and there are more than 25 passport countries represented by the student body," Street said. "He is currently in fourth grade and his free time consists of various activities ranging from reading in his hammock to hiking local trails to climbing and picking avocados out of our tree."
According to the Brothertons there is still so much to do in Kenya. There are so much that we take for granted here in the states that Kenyans are in dire need of.
"Steady electricity, clean water (or water at all), paved roads are needed. And from a medical standpoint, in the U.S. you might have to wait for an appointment to see your physician or for a few hours in the ER, but most don't have to worry about availability of diagnostics or treatments and/or their hospital running out of supplies, medicines or beds," Brotherton said. "That's a reality we face here every day."
Street acknowledged that anyone can help their mission give the people of Kenya a better quality of life.
"People that want to get involved have multiple paths and the first path is to pray regularly – for their work, family, colleagues, hospital and for east Africa as a whole," Street said. "If you feel led to get involved financially, then you can visit our online donation page hosted by our mission agency, Serge, (www.serge.org/staff/id-51508) and contribute either as a one-time donor or on a recurring, monthly basis, or you can mail a check to Serge, Dr. Jason Brotherton 51508, PO Box 96900 Washington DC 20090-6900. All donations made to Serge are tax-deductible."
Currently, the Brothertons are trying to raise enough money to purchase some tangible items for the hospital's ICU (e.g. ventilators, infusion pumps, CPAP machine, ECG machine) as well pay tuition for some nurses to receive training to work with critically ill patients.
"These are life-changing investments and we also have a needy patient fund that covers diagnostics and treatments for the hospital's most needy patients, which are many as one can imagine," Brotherton said.
According to Street, Serge, holds all contributions made toward their work in an account that they manage. For full accountability of use of donor funds, all of their purchases/spend are submitted to and approved by Serge to ensure alignment to their vision and mission.
You can stay connected with the Brotherton family through a number of different mediums including Blog at changeinitinerary.com/blog, a bi-monthly newsletter by signing up at changeinitinerary.com/subscribe. You can also reach the Brothertons by email at changeinitinerary@gmail.com or by following their Facebook pages: at jason.brotherton.75 (Jay Bee) and reel.street.9 (Ree'L Street) and on Instagram at jay_bee_md.