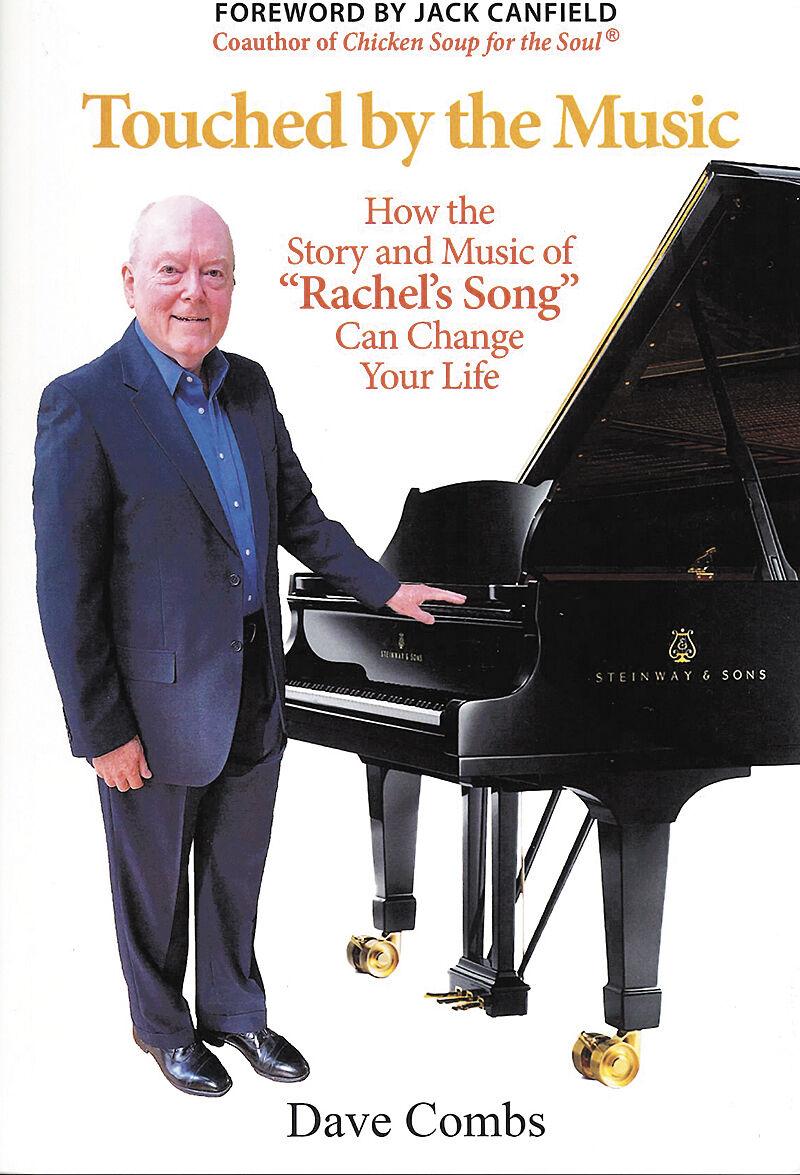 By Bryan Stevens
Many people may know Dave Combs for a four-minute instrumental work of music known as "Rachel's Song" that the Erwin native composed 40 years ago. He's also a successful business executive, entrepreneur and, of course, songwriter. He has written 120 songs and created 15 albums.
Now, Combs has also written a book, "Touched by the Music: How the Story and Music of 'Rachel's Song' Can Change Your Life."
He spoke by phone with The Erwin Record on Nov. 3 on a chilly morning from his home in Winston-Salem, North Carolina, to discuss the book.
Born out of the pandemic
The new author said that the idea for doing the book came last year during the lockdown that followed the arrival of the COVID-19 pandemic.
"Lockdown kept us sequestered in our home," Combs noted.
Combs said that he and his wife, Linda, have often discussed how many funny and instructive stories he has gathered over the years. They have saved the letters and notes people have sent about his music, particularly, "Rachel's Song."
With nothing much else to do during the pandemic, the couple lugged crates of letters from storage. They piled them atop Combs' pool table until the notes and letters from people touched by Combs' music completely buried the table.
They counted the notes and letters and discovered more than 50,000 people have written to him over the years.
Combs said that his wife looked at him and said, "Now's the time."
With those words, work on the book began in earnest.
"She came up with the title," Combs said, crediting his wife with that all-important aspect of book writing.
"We started last year about the first of November," he said.
Combs soon discovered that writing a book is a team project. He said that he needed to line up editors, designers and other support.
"Writing the book, though, is the first step," he added.
Fortunately, Combs noted that he considers himself a good storyteller.
"I love to tell stories," he said.
Rachel's Song
The story of "Rachel's Song" was one 40 years in the making.
He wrote the song in 1981, which means that the song is celebrating its 40th anniversary this year.
A few years after writing the song, Combs recorded it for the first time in 1986.
The instrumental "Rachel's Song" has won fans worldwide. Combs said "dozens or hundreds of people" have written their own words to accompany the music, but he has never felt tempted to do so.
"People have written to me urging me not to put words to it," Combs said. He explained that, for many listeners, they like that the instrumental song allows them to give their own interpretation to the music without the influence of someone else's lyrics.
The Erwin Years
Combs said his interest in music can be directly attributed to his Northeast Tennessee upbringing.
"East Tennessee is a wonderful territory for musicians," he noted.
The conversation often turned to the natural beauty surrounding his hometown. Combs said that as a kid he loved nothing better than to "run up in the woods" to enjoy the smells and sights of nature.
"Having grown up in Erwin, there's just something special about the beauty of the mountains on both sides of the valley," he said.
His book details how he was blessed with a musical family.
His mother was from a big family — three brothers, two sisters — in Southwest Virginia."She was born in 1919," he said. "He said she also attended Radford College in order to become a teacher.
She also took piano lessons. Not only was she dedicated to learning to play, she showed great dedication simply getting to her lessons.
"She had to walk from the family farm to her teacher's house," Combs said.
She practiced on a piano in the home of her grandfather, a preacher in his community.
In the book, Combs said his father would rather have played piano than eat. His love of the piano evidently passed to his son.
He identified June Kegley as his first piano teacher.
"I also took lessons from Stan Moon's grandmother, Mary Moon," Combs said, noting that Stan Moon was his best friend.
He also had his Granny Combs.
"She was 4 foot 8 and a ball of fire," Combs said. "She could play by ear, but she could also read shape notes."
He said she also owned her own pump organ and played all her favorite hymns on it.
Sojourn in Florida
At age 16, he traveled to Florida to live for the summer before his junior year of high school with his father, who was working for Tropicana Products at the time.
Combs and his father were chosen to help with ship-board worship services instituted by Anthony Rossi, the owner of Tropicana at the time. Rossi wanted the crews of his cargo ships, which brought Honduran oranges to Florida for processing, to have access to Sunday church services.
With his father leading the signing of the hymns for the services, Combs accompanied the singing on a portable pump organ.
From those services aboard ships in Tampa Bay playing for Honduran crews, Combs said he learned to play "every hymn in the book."
Early Influences
Another early influence in his life came from the late Pat Alderman, or "Uncle Pat" as most people called him.
In the book, Combs notes that Alderman served as a traveling music teacher for Combs and other students during their eight years at Love Chapel Elementary School in Erwin.
He credits Alderman with teaching him fun campfire songs like "Home on the Range" and "Oh Susanna."
In high school, Combs continued to benefit from Alderman's musical influence when he switched jobs and became choral instructor at UCHS. Alderman also helped ready Combs and other students, including Mark Jacoby, for a state chorus competition.
While Combs went on to record "Rachel's Song" and other works, Combs said Jacoby went on to forge a career on Broadway, appearing in musicals like "Show Boat" and "Phantom of the Opera."
In his book, Combs writes, "Mark's beautiful tenor voice and acting talents would later take him to a successful career on Broadway."
In addition to musical inspiration, Alderman influenced Combs in other ways.
"He was a jewel," Combs said. "He taught us appreciation of nature. He knew every species of tree and bush."
Alderman would take students on JEEP safaris on weekends and hiking trips.
"We'd hike to the top of Bald Mountain where you could look out over creation," Combs said. "It was something special, almost like holy ground."
Friends have also motivated and influenced him.
He referred to high school and college classmate Stan Moon.
"Stan wanted to play guitar," Combs said.
"You've got to spend your time and practice," Combs said.
Moon practiced, and it paid off.
"He got so he could play all of Chet Atkins' songs," Combs said. "He had all of Chet's records."
There's more to Stan's story.
"He became a jazz guitarist," Combs said. "He played with the Navy Jazz Band."
With a musical family and friends like Jacoby and Moon, it was almost inevitable that Combs would make a substantial contribution to music with "Rachel's Song."
Jack Canfield 
The fame of the song has spread far and wide, and has even attracted the notice of Jack Canfield, a motivational speaker and the co-author of the "Chicken Soup for the Soul" series, which has more than 250 titles and 500 million copies in print in over 40 languages.
"He's the number one seller on Amazon," Combs noted.
Combs met Canfield for the first time when he participated in one of Canfield's Mastermind Retreats.
During the three-day retreat, Canfield also read a draft of Combs's book. He also decided he wanted to write a foreword for the book.
"In addition to being a gifted composer, Dave is also a entrepreneur and has created a successful music business," Canfield writes in the foreword. "One of the best things about this book, in addition to his song and the music he has created, is that it really is a primer in what to do if you want to get something out into the world."
The book allows Combs to provide his own professional insight into the evolution of a piece of music that he eventually titled "Rachel's Song."
Music to soothe the soul
Combs refers to his music as "ear relief."
"It's soft, soothing and instrumental," Combs said. "It has a calming effect on people of all ages."
During the pandemic, in particular, a lot of people were seeking just that sort of music.
The book even addresses that subject in a fascinating epilogue.
North Carolina, as well as many other states, locked down long-term care facilities because many residents were among the people most vulnerable to the coronavirus.
Combs noted in the epilogue that prior to his mother's death in 2017, he visited her every day for the two-plus years she lived in an assisted living facility called Arbor Acres United Methodist Retirement Community in Winston-Salem.
He said he knew firsthand how important socialization and music activities are for the mental and physical well-being of the residents of such facilities.
Knowing that the pandemic was leading to a lot of stress and isolation, Combs hit upon the idea of combining his photography of beautiful flowers and peaceful scenery with his instrumental piano music to create YouTube videos. He created playlists that he offered for free to longterm care facilities, starting with Arbor Acres.
He did some online research and discovered that in North Carolina alone there were 600 assisted living facilities and 400 nursing homes. Combs personally called facilities and emailed them links to the recorded videos on YouTube. When they discovered he was offering them the service for free, many directors at the facilities responded positively.
In the end, he tuned in facilities across the nation to his YouTube stress-reducing music videos. "I felt a great satisfaction and relief that this important segment of our population had the ability to also be touched by the music," he wrote.
Soulmate
If there's one person who gets singled out for credit for support of his efforts, it is his wife, Linda.
"I was so fortunate to meet and marry Linda Morrison," he said.
"We hit it off immediately," Combs added.
When the time came to ask her to marry him, he turned again to the mountains surrounding Erwin.
"I gave her her ring at Beauty Spot on Unaka Mountain," Combs said.
He noted that he purchased the ring at Keys Jewelry in Erwin.
In addition, they drove to the Beauty Spot in a brand new Chevy Impala on Oct. 11, 1969.
The couple recently celebrated their 52nd anniversary.
Linda's also had an accomplished career in her own right.
She has held elected office, winning a seat to the Forsythe County Board of Education in 1979 during the same election that saw Ronald Reagan  elected President.
Linda made an impression on voters in the eight short weeks she had to campaign.
"In that election, she got 1,000 more votes than Ronald Reagan did," her husband recalled of the totals in their local voting precinct.
Linda ended up working for the Reagan Administration a short time afterwards. She worked for the Reagan Administration at the Department of Education, as well as at the U.S. Treasury.
She also served as controller for the state of North Carolina.  She was appointed by Gov. Pat McCrory on an interim basis in 2014 following a vacancy and was re-appointed to a full term in 2016.
"Her things is motivating other people," Combs said. "I'm blessed to have her."
He even dedicated the book to her.
"To my wife, Linda, for her inspiration, patience, advice and love," he wrote.
Looking to the future
Now that his mother's no longer living, Combs said he doesn't get back to Erwin as often.
He does have a fun account in the book about a trip back to Erwin to help celebrate the 90th anniversary of  Calvary Baptist Church on June 22, 2014. The amusing chapter also includes an account of a desperate search for a pair of pants on a Sunday morning.
The interview with Combs ended because he needed to prepare for a Zoom program for an audience in London on the afternoon of Nov. 3.
He has been pleased to discover he has fans all over the world. 
According to Spotify statistics, Brazil is apparently a hot spot for his music.
"Instrumental music has no language barrier," Combs said to make sense of his appeal to Brazilians.
The book "Touched by the Music: How the Story and Music of 'Rachel's Song' Can Change Your Life" is available on Amazon. 
Combs enjoys hearing from people about the impact of his music. Visit his website at Combsmusic.com.