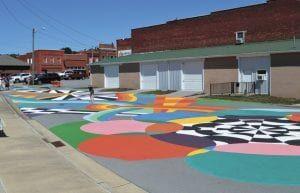 By Richard Rourk
Downtown Erwin recently set itself apart from neighboring towns with a mural that spreads a whole block. Now located on Nolichucky Avenue between Union Street and Gay Street is a vibrant piece of art.
According to Town of Erwin Communications Specialist Jamie Rice, the mural is meant to show the excitement of the new downtown.
"This mural was really meant to bring cheerful excitement to an otherwise neglected part of our downtown," Rice said. "Nolichucky Avenue really has not had as much attention as it deserves." According to Rice, the area was due for a facelift.
"The skate park, library and two art studios both call this neglected street home and we really wanted to bring attention to this part of downtown," Rice said. "It has been on my to-do list for three years, and the Tennessee Arts Commission Grant has finally helped make this dream a reality."
Rice acknowledged that the art piece serves another purpose.
"Another positive outcome is that it has slowed traffic, making it safer for the families visiting the skate park and library," Rice said.
According to Rice, the mural was a way to continue riding the wave of community projects that make Erwin unique.
"After observing the boost in community spirit from other public art projects, such as the Elephant Revival and the Yarn Bomb, the Town of Erwin applied to the Tennessee Art Commission for a grant to add more permanent public art downtown," Rice said. "We wanted a project that could involve all age ranges and demographics of the community. We have had volunteers as young as 5 years old and it has been amazing to see such community support."
According to Rice, the inspiration for the mural came from a familiar source.
"I saw a small version of this paint the pavement project in an online Strong Towns article and we decided to put our own Erwin twist on it," Rice said.
Strongest Towns is a website that features exceptional towns, and Erwin was chosen for the websites bracket-style competition that took place in March. Erwin finished in the Elite Eight of the annual competition.
Rice said that Unicoi County High School art teacher Annette Tipton took the project and ran with it.
"Annette Tipton has been an instrumental figure in the public art movement in our town and she is always up for a challenge," Rice said. "Her class has helped on numerous downtown actives, including painting two elephants, and the wildly popular Peanuts characters that were displayed last Halloween."
Rice is thankful for Tipton's efforts.
"Normally my conversations always start with her, 'I have this crazy idea …' And her response is always, 'Yeah we can do it, no problem'," Rice said. "She is amazing."
Rice was also thankful for all the hard work and support the Town of Erwin puts into the downtown projects.
"This is definitely a first for our town, and I am so thankful that the Board of Mayor and Alderman took a chance on something completely new," Rice said. "Our leaders are always searching for ways to engage the entire community and I think they are so thrilled with the result."
According to Rice, there were more than 75 gallons of paint and four, 12-hour days worked by more than 50 volunteers to make the dream a reality.
To keep up with other projects, follow RISE Erwin, ThisisErwin and the Town of Erwin on Facebook.