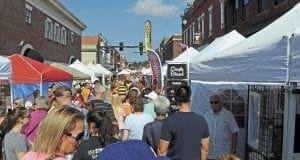 By Richard Rourk
The 42nd Unicoi County Annual Apple Festival is officially over and it looks like it could be a  record-breaking year.
According to Unicoi County Chamber of Commerce Executive Director Amanda Delp, this year's festival is set to break previous attendance records.
"All of our preliminary reports point to a record-breaking year for the attendance," Delp said. "Our Friday morning numbers were especially strong this year."
Delp acknowledged that the previous record was 110,000 attendees for the Oct. 4-5 festival. Delp also explained that the final numbers will be in later in the week, but she is sure that this year will break the 110,000 mark.
"We actually take pictures from above the crowd at several points throughout the day to get the correct crowd numbers. We account for tent space and we are able to get the correct number of attendees," Delp said. "We actually worked with Tysinger, Hampton & Partners to come up with mathematical equations to count the crowds. There is a lot of math involved and we should have the final numbers at the end of the week."
According to Delp, the weather played a big part in the increased crowds.
"The weather could not have been any better," Delp said.
Delp also acknowledged that the streamlined food court and the addition of vendors have also increased the attendance.
"The 350 vendors have done really well," Delp said. "Some had already sold out by Saturday afternoon, and the new food court layout has worked out very well. I think maybe we may need to add seating at the food court."
In addition to the 350 vendors and food court, the festival featured two separate entertainment stages and a large children's area full of games, rides and crafts for the younger crowd. There was also the Annual Apple Festival 4 Mile Run/3K Walk Road Race that was hosted by the Unicoi County Family YMCA. The Annual Apple Festival Cooking Competition was hosted by UT Extension of Unicoi County and was sponsored by Mountain Harvest Kitchen.
According to Unicoi County UT Extension Agent and County Director Rachel York, the winners of the cooking competition were as follows: In the sweet category, first place went to Elisabeth Casey for a braided apple sweet bread; second place went to Tonya Casey for an apple rose; and third place went to Joe Shultz for an apple cheesecake. In the savory category, first place went to Maria Costa for a caramelized onion and apple tart; second place went to Elisabeth Casey for a Thanksgiving stuffing with apples and cranberries; and third place went to Tonya Casey for an apple pizza.
Differing from previous years, the Miss Apple Festival Scholarship Competition will be held on Sunday, Jan. 26, 2020.
For several of the local shops and vendors the 42nd Annual Apple Festival was a huge success and marked important milestones for their businesses.
"We have gone through several bushels already," True Family Apples co-owner Amy True said.
For Union Street Gallery and Union Street Taproom, this year's Apple Festival marked the first year anniversary for the downtown businesses.
"We would like to say thank you to all of our customers that have supported us over the past year, and we look forward to serving them on this second year and continuing to be a part of the community as a whole," Union Street Taproom co-owner Michael Baker said. "Thank you to Whisk Bakery & Cross Anchor Union for helping us celebrate our one year anniversary."
For the Union Street Taproom, the Apple Festival provided a great backdrop to welcome friends and new customers.
"The festival was a huge success for us, as we offered a fun inviting space for families to relax in an air-conditioned space during the festival," Union Street Taproom co-owner Tara Baker said. "We were also able to serve a ton of out-of-towners who didn't know that downtown Erwin had a taproom and said they would be back again not only during the Apple Festival. We want to give a huge shout out to the Chamber of Commerce and Town of Erwin for such a job well done on the Apple Festival."
For more information about the 42nd Apple Festival and for more details of next year's 43rd Apple Festival, please follow Unicoi County Chamber of Commerce on Facebook.